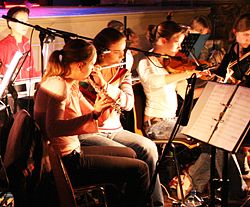 Regency Group proposes Musical group courses of different levels, held in collaboration with the prestigious School of Music of San Felice in Piaza in Florence, as also single courses with a teacher.

Theachers who specialize in jazz, classical music and various types of ethnical music, selected carefully by us, will hold daily courses of 4 hours for 3 days, for a total of 12 hors of lessions in the School of Music San Felice.

Nevertheless it will possible to attend single coures with a personal teacher in vocal technic, for which Regency Group has the great honour to collaborate, among others, with the famous soprano Ms Simona Bertini.

There will also be held courses/seminaries of vocal thechnic, addressed both to the starters and advanced singers, specifically for Opera, Italian and foreigner, but also for Musicals and soft music, and these will be held during masterclasses based on the level of the students.